Hodnet Medical Centre – Extended Access Appointments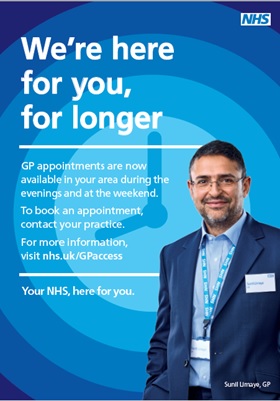 On 1st October, 2018 Hodnet Medical Centre became part of a network of practices (known as 'hubs') in Shropshire, working together to offer patients 'Extended Access' to pre-bookable appointments. These can be in an evening, at the weekend and on bank holidays.
Full information is available on the Extended Access Appointments page on the practice's website. The basic details are:
Local pre-bookable appointments are available as follows:
Weekday evenings (Monday to Friday)
between 6.30pm and 8pm (at a local area hub)
Saturdays
between 8am and 1pm (at a local area hub)
Sundays and bank holidays
between 8.30am and 12.30pm  (at a single site in central Shrewsbury)
To pre-book an evening, weekend or bank holiday appointment patients should contact the practice in the usual way during normal opening hours. Appointments may not be with their registered GP, but will be with a GP or other qualified healthcare professional. Patients will be advised about the location of the appointment at the time of booking, enabling them to make an informed choice about where and when they access care.